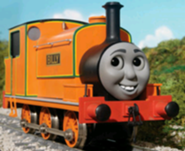 Billy
Billy is an orange, bubbly steam tank engine. He is sometimes so eager to be really useful that he is often careless and is not usually opened to feedback, which can sometimes lead him into trouble. 
Appearances
Ad blocker interference detected!
Wikia is a free-to-use site that makes money from advertising. We have a modified experience for viewers using ad blockers

Wikia is not accessible if you've made further modifications. Remove the custom ad blocker rule(s) and the page will load as expected.