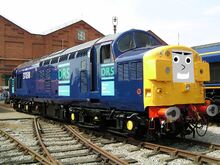 Brandon is a diesel engine that works on the main line pulling the local.
Bio
Brandon was built at the English Electric company in 1965. He was built as a final edition for his class of locomotive.
Brandon arrived on Sodor in 2010. When he was still new, the other diesels saw him getting along well with the steam engines and it upset them very much. They began to bully him, but after he and Paxton barred the shed at the Dieselworks, he became one of the most respected diesels around.
Later, Brandon had to pull a train of coal cars after James came off of the rails. The trucks behaved badly, but Brandon was able to whip them into shape. Due to his ability to handle the most troublesome train on the mainline, he is nicknamed "The Master of the Mainline".
Personality
Brandon has great respect for the steam engines and will not tolerate disrespect towards them. He may have to keep rude diesels in order when they are rude to the steam engines.
Basis
Brandon is based on the British Rail's Class 37 diesel locomotive.
Trivia
Brandon's number was D7000. This is a running gag. The numbers of the diesels of his class only went up to D6999.
Brandon is a fan of the show, Ghost Train Whisperer. This is a parody of the CBS drama series, Ghost Whisperer.
Brandon used to work for the Direct Rail Services on the Cumbrian Coast Line.
Ad blocker interference detected!
Wikia is a free-to-use site that makes money from advertising. We have a modified experience for viewers using ad blockers

Wikia is not accessible if you've made further modifications. Remove the custom ad blocker rule(s) and the page will load as expected.