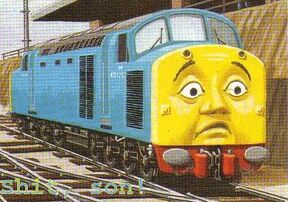 40125 (renamed Brian after being initiated onto the NWR) is a haughty diesel. It seems to be normal with visiting diesels that he would be rude in thinking that diesels are superior to steam engines. He seems to be friends with Mark and Wilson.
Appearances
Ad blocker interference detected!
Wikia is a free-to-use site that makes money from advertising. We have a modified experience for viewers using ad blockers

Wikia is not accessible if you've made further modifications. Remove the custom ad blocker rule(s) and the page will load as expected.