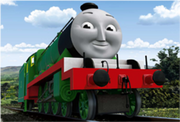 "Well well well, Henry I don't think you're pulling the Flying Kipper anymore. I think you're pulling the Crashing Kipper!"
- Bill and Ben, The Crashing Kipper, second season
Henry is a green tender engine.
Persona
Henry is usually friendly with the engines, but sometimes he can get vain. Henry has currently entered a friendly rivalry with James. He likes teasing others, as shown when he laughed at Diesel 10 when he was covered in Sodor Stinky Cheese and when he teased Belle for having water cannons. He seems to have love for nature. Henry has been beyond Sodor as well, when he went to America to prove that the biggest station was Union Station.
Appearences
Gallery
Ad blocker interference detected!
Wikia is a free-to-use site that makes money from advertising. We have a modified experience for viewers using ad blockers

Wikia is not accessible if you've made further modifications. Remove the custom ad blocker rule(s) and the page will load as expected.