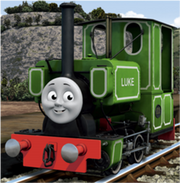 Luke is an Irish narrow guage engine. When he first came to Sodor, he hid up in fear that he would be sent away from Sodor from bumping a yellow engine into the sea, but with Thomas and Victor's help, he was able to learn the truth, and now works happily on The Thin Controller's Railway.
Appearances
Ad blocker interference detected!
Wikia is a free-to-use site that makes money from advertising. We have a modified experience for viewers using ad blockers

Wikia is not accessible if you've made further modifications. Remove the custom ad blocker rule(s) and the page will load as expected.