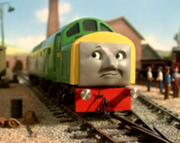 D261 
(renamed 
Mark 
when he was finally initiated onto the Sodor Railway) is a snooty and arrogant diesel, whom like most diesels, thinks he knows it all. He thinks that steam engines should be replaced by diesels, which infuriates the steam engines, and often has to eat his own words in the end.
Appearances
Ad blocker interference detected!
Wikia is a free-to-use site that makes money from advertising. We have a modified experience for viewers using ad blockers

Wikia is not accessible if you've made further modifications. Remove the custom ad blocker rule(s) and the page will load as expected.