Troublesome Trucks are characters that appear in episodes.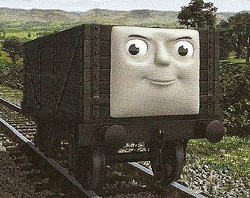 Troublesome Trucks
,
Troublesome Trucks (Foolish Freight Cars, or simply Freight Cars, in the US) are so nicknamed because they can be quite troublesome and love to play tricks on the engines. No one, save Edward, Stepney, and Salty, likes them, as they have been the cause of many accidents. There have, however, been some cases where the trucks and engines are on the same side.
Ad blocker interference detected!
Wikia is a free-to-use site that makes money from advertising. We have a modified experience for viewers using ad blockers

Wikia is not accessible if you've made further modifications. Remove the custom ad blocker rule(s) and the page will load as expected.